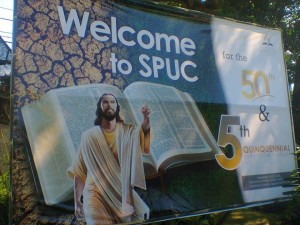 November 18, 2015 the South Philippine Union Conference (SPUC) of the Seventh-day Adventist celebrated their 50th Anniversary with the theme "Serving God, Loving Each Other, Caring for Others."  The event started with a motorcade led by the officers of the SPUC, together with the CARS – an organization of motor riders under the Adventist Community Service of the Seventh-day Adventist Church of North Central Mindanao Conference, and the delegates from different missions and conferences composed of pastors and elders of the church.  The opening program was held at the SPUC Garden Church with Pastor Violeto Bocala-the former president of the Southern Asia Pacific Division as the keynote speaker.
In 1951, the request to divide the country into two union missions was granted by the General Conference.  The North Philippine Union Mission for Luzon and South Philippine Union for Visayas, Mindanao and Sulu Archipelago.  In 1965, SPUM was divided into two missions.  Central Philippine Union Mission for the Visayas South Philippine Union Mission for Mindanao.  In August 4-6, 1995, the General Conference and the Asia Pacific Division decided to upgrade the South Philippine Union Mission to a conference status.
Let us continue to worship God and be a part of His ministry till Jesus comes.  To the South Philippine Union Conference, Happy 50th Anniversary.