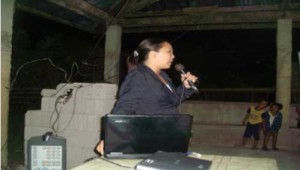 My heart was pounding when we reached the site where we will be holding our Health and Bible seminar. People had already flocked the multipurpose hall and I felt a little nervous. Although I had partnered with my husband-Pastor several times in the past, I felt anxious  because this one is different  since I will be the sole lecturer for the entire duration of the effort. The womens' eagerness to proclaim the gospel in this place was  very contagious that instead of  having a 10 night presentation as was initially agreed, it was decided to extend it to 13 nights instead. The crusade had started last August 1 and earlier that day, the women had conducted a feeding activity for the children of Perico, Anomar, Surigao city.  Once, I lost my voice twice on the third day that I feared having to stop the lecture, but thanks to God's intervention , through intent prayers and supplicaions by the brethren, the crusade ended successfully with 11 souls who decided and waited to be baptized at NEMA on October. God is really faithful and true to His promises.
It was really a worthwhile endeavor, the brethren were united and helped each other for the good of the crusade and quite rewarding when many from the audience would come up to you and expressed their gratitude for the learnings. They said that they have never heard such things before and wished that things like these would be repeated again. Thanks to Pastor Noel Gerona's coachings  and patience in the preparation of the materials, especially the powerpoint presentation which he had carefully outlined,  to make the delivery attractive and interesting. I feel blessed with having a spouse who is talented enough  to blend health and gospel. Thank you Lord!
I know that this effort made Satan mad enough to loose two racing carabaos from nowhere into our midst during the closing ceremonies, but God in His mercy had miraculously delivered His people. Nobody was hurt, although some were a little shaken from being nearly trampled underneath. Those who are waiting for their baptism are now regularly attending church services and said that they are experiencing persecutions already from their families. We are grappling with unseen evil forces, but with God on our side, there is nothing to fear about.
My  salute to the women of Sison district, especially in the hillside unit spearheaded by Sis. Neda Malaga, Jeje Abale,  Fely Becina, Mabel  and many others who generously devoted their time to make the program lively and attractive. Bro. and Sis Morgado who tirelessly went from one house to another to share the gospel.
I hope that our zest for God's cause will continue to be "mag-alintabo" till Jesus comes! [by  Rejean A. Gerona, RN, MAN]